Feb 28, 2018
Small arms surveys
Daily news always show shooting in american schools with riffles or massive killings with heavy weapons. There are several sources for small arms studies and policies.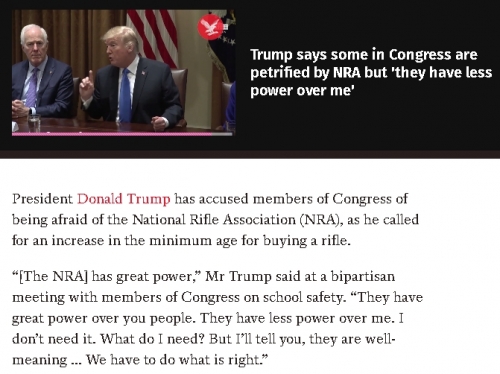 "We have to do what is right." D. TRUMP about gun control.
The recent talk of D Trump about arms and NRA around his desk shows he can change the deal. What americans want is safety and freedom of movement, not the right for everybody to hold a gun. For the last tens of years french and other people were always schocked that nothing was changing in that matter. Up to now it seems that even people with psychiatric troubles could buy a weapon. The first measure appear to be the shift from 18 to 21 years old to be allowed to own a gun.
Also Dick Smith CEO have declared they will not sell more riffles like the one wich have been used, and no more high capacity charger for automatic guns.
Also Wal-Mart and Kroger Barney Comp.