Aug 31, 2017
NGO RSF attacked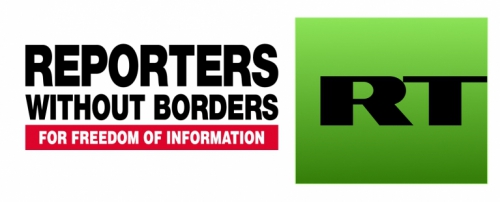 "Calling for the closure of a media freedom NGO known throughout the world for its independence, and using her own media outlets to do so, reflects a concept of journalism that is, to say the least, somewhat distant from the profession's ethical principles and standards," Deloire said today.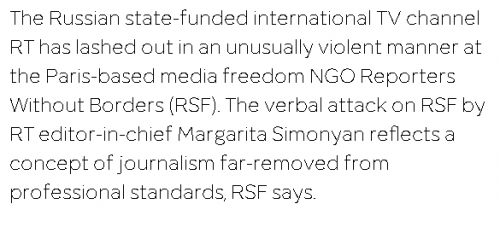 Читать по-русски / Read in Russian
"We obviously stand by our claim that, in the new propaganda era we are entering, some people are exploiting internationally established standards to defend perversions of journalism. RT's editor in chief can nonetheless count on RSF to continue making a noise in defence of free and independent journalism."
European charter on Freedom of Press: read here.
French abstract:
Art. 3
Le droit des journalistes et des médias à la collecte et à la diffusion d'informations et d'opinions ne doit pas être menacé, restreint ou sanctionné.


Art. 4
La protection des sources journalistiques doit être strictement observée. Toute action de perquisition de rédactions et de locaux de journalistes, ou de surveillance, d'écoute des communications de journalistes ayant pour objet de révéler des sources d'information ou de violer le secret rédactionnel est proscrite.
English abstract:
Article 3
The right of journalists and media to gather and disseminate information and opinions must not be threatened, restricted or made subject to punishment.


Article 4
The protection of journalistic sources shall be strictly upheld. Surveillance of, electronic eavesdropping on or searches of newsrooms, private rooms or journalists' computers with the aim of identifying sources of information or infringing on editorial confidentiality are unacceptable.