Aug 30, 2017
Mug for years
70th Anniversary of UNESCO Mug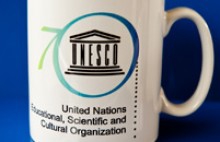 This mug which proudly displays the 70th Anniversary logo in English and French has been created in limited edition.
"la solidaridad mundial e intelectual de la humanidad" y con el fin de construir una paz duradera."
"es fundamental la libertad de expresión, el impulso de las tecnologías de la información y la comunicación y la construcción de sociedades del conocimiento. Acciones todas que la UNESCO continuará impulsando para cerrar brechas."